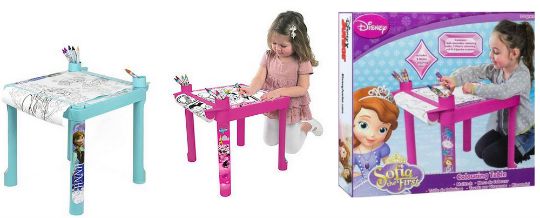 They really do think of everything these days, I have never come across these tables before but what a brilliant idea they are! The colouring tables are plastic tables with a 5 metre roll of colouring paper that feeds through to make it easier to keep the paper in place. The Disney princess tables start at £7.99 at The Range.
Also included are 8 jumbo crayons, there are crayon holders built into the table already. The Disney Sofia the First Table* is currently on offer for £7.99.  The other tables are all priced at a reasonable £9.99, this is the lowest I have found the tables full price, other places are around the £20 mark. They would make brilliant presents at less than a tenner! The other designs are the Disney Princess Colouring Table*, Disney Frozen Colouring Table* and Disney Minnie Mouse Colouring Table*.
Standard delivery starts at £4.95 but is free for orders over £50.