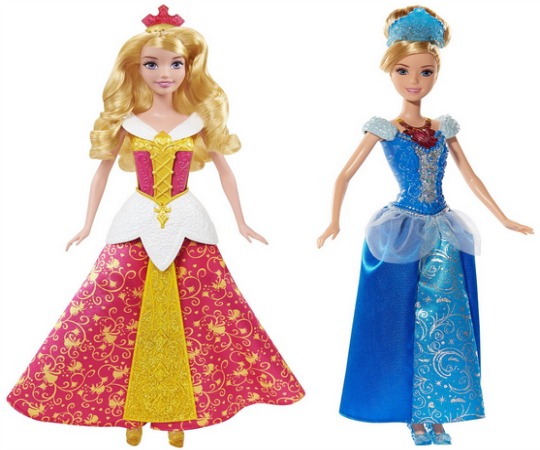 Wow, wow and more wow! Disney Princess have much better dolls out now than when I was a nipper. These Disney Princess Light Up Dolls are something else. The Cinderella Light Up Gems doll isn't cheap and normally sells for around the £20 mark, you can get it from Amazon for just £9.99. The Magic Dress Sleeping Beauty would set you back £24.99 from Argos, nip over to Amazon and it's yours for only £11.50 and that includes FREE Super Saver Delivery. These two dolls are at the cheapest they have ever been on Amazon so we fully anticipate that these will sell out so I'd be quick and grab one or both quickly.
The Disney Princess Light Up Gem Cinderella Doll has a tiara and gemstone necklace that light up. They are activated by dancing and twirling your doll around. Cinderella comes in a rather sparkly version of her famous gown an of course two matching shoes too.
I prefer this Disney Princess Magic Dress Sleeping Beauty Doll as her entire dress changes colour, how impressive is that? She too comes with accessories.
Both dolls are at a great price just now so don't hang about.