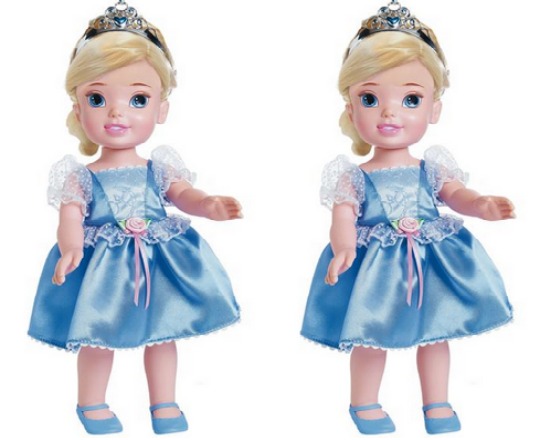 You might have saw our post yesterday about the Sleeping Beauty, Ariel and Rapunzel Toddler Dolls and a fair few of you stated that you were after the ever popular classic Princess Cinderella. Well here you go! Nip over to Amazon, using the link below and you can bag yourself a Disney Princess Cinderella Toddler Dolls for £15.96 delivered. Pay with a Mastercard, and enter the Amazon promo code MCARD5OFF at the checkout and you can get her for just £10.96 with FREE postage! That is SO cheap!
Disney Princess Cinderella Toddler Doll is a baby-faced version of the pretty Princess. She is 15" tall and comes dressed in her famous blue dress with matching blue pumps.
You get a hairbrush and a tiara to make her hair look regal and fancy. The arms are moveable and she can be posed in different ways.
I can see why these toddler dolls are well sought after as they are cute and a nice twist on those classic Disney Princesses. I think they are ever so cute and would make a great present for a little Disney Princess fan.