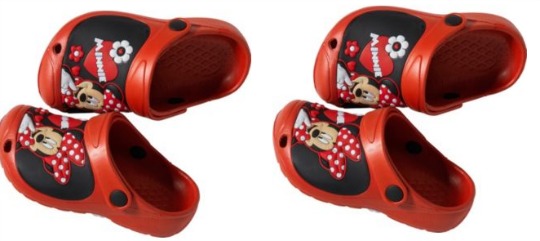 Reduced from £5.99, they currently have 33% off and are now £3.99.
Available in sizes 6 to 12, you just need to choose the size you require from the drop down menu. There's not a whole lot of info on these over at Argos but how much do we really need? They're red and feature Disney's favourite female mouse Minnie.
No reviews either to go on so it's purely on picture and price here and experiences you've had in the past. I usually pick up a couple of these types of clogs for over the summer, my 7 year old hasn't got time to mess around with laces to head out into the garden when the sun's shining and they're great for the beach or holidays too.
Stock looks good in all the postcodes I've tried and you can click the link above and reserve near you. Or opt for home delivery but that will set you back an extra £3.95.