Disney launches the Frozen Cruise!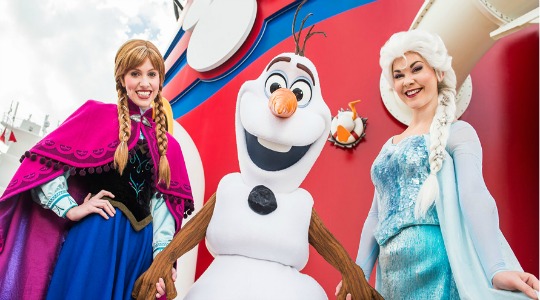 Are you ready for this? For fans who just can't get enough, Disney Cruises will be running Frozen Cruise Trips this summer! And they won't be heading for sunny climes, but will be staying in the colder realms of Norway which is much more fitting. Interest is going to be absolutely huge, and we will be amazed of these don't sell out in super quick time.
The Disney cruise ships will be transformed into the Kingdom of Arendelle, and you get to go on holiday with Anna, Elsa and Olaf! The Frozen Deck Party will include lots of songs, activities, scavenger hunts, themed dining, and an evening dance. This is how Disney describe just part of it:
Freezing the Night Away With Anna, Elsa and Friends
The evening extravaganza begins with a family-friendly interactive deck party featuring the royal sisters of Arendelle and their fun-loving companions. By now, the magical freeze has made its way to the upper decks of the ship as well, with giant snowflakes and icicles surrounding the "frozen pond" that used to be the family pool.

Hosted by Queen Elsa's royal party planners, Kirsten and Yohann, the song-filled "snow"-case features appearances from Anna, Elsa and Kristoff along with virtual visits from Sven, Olaf and the trolls. With all sorts of fun dancing, great Frozen songs and Elsa's powerful ice magic, you won't want to miss a single thrilling—or chilling—moment.
Excited? You can find all the information about the new Frozen Deck Party and make bookings on the Disney Cruises website here*.