It's that time of year again, *cough* *cough* *splutter*, where everyone seem to get sick and sending your child to school is pretty much like sending them into a germ battle field.  At the same time there's always pressure from health visitors to make sure kids are getting enough vitamin D, especially in the winter month. So what's a mother to do? The plethora of information available and research that comes out is terribly confusing for parent too, so it's really hard to know what to do.
On the up side, this review won't tell you what to do, or make promises, but will tell you about a delicious product that children will take happily that should benefit them.
Disney Gummy Multivitamins are multivitamins for children aged 3 and over, in the shape of beloved Disney characters, like Mickey Mouse, Cars and Princesses. 
The Gummies look fabulously themed. The Cars Gummies have McQueen and Mater shapes, and another, possibly Guido - properly, not dodgy, bad, that could be... kind of shapes. The children love them!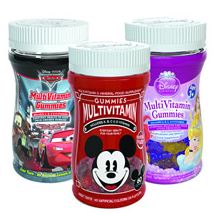 There's also the Mickey Mouse ones, who come in three colours, and the Disney Princesses shaped as Cinderella, Belle and Arial from the Disney Princess films.
Each pot also has three different flavours, with grape, orange and cherry flavours, so that there's variety from day to day. These taste unfortunately fabulous. I say unfortunate because my husband, particularly, was popping them like candy! The kids kept asking for them like sweets too. It was great for getting them to have their vitamins, but it really was like sweets and quite hard to get them to stick to the dosages.
Just a whiff of the vitamins is enough to get your taste buds drooling. So yum.  They smell as great as they taste.
They come in a screw top pot that needs to be pressed down before turning to open it. If your child tries to open it without pushing down, it will just go round and round and round and keep their fingers out the pot.
Nutritionally speaking, it's tough to say how good they are.  Each 'tablet' contains 28% of your child's RDA for vitamin A, 50% for vitamin D and 38% for vitamin C, so from (my doctor's) medical perspective, one of these isn't really going to do much to fight against a cold, for example, and certainly won't make an already sick child feel better. (You need about 1000mg a day per year of life to fight a cold, she says, so a 4 year old can have 4g in a day to actually combat a cold [for the duration of the cold], and you can see why 30mg wouldn't make a huge difference.) That's not medical advice mind you - just what my doctor advised me for my Calpol intolerant child.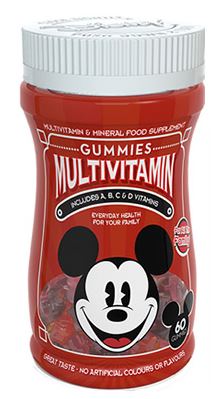 However, there's on harm in topping up a child's vitamins and essential minerals.
The one ingredient in some vitamin that I actively avoid for my children is Aspartame, the sweetener in many foods, drinks and sweets, so that was the first thing I checked for in these Gummies Multivitamins, and I was really pleased to see that it didn't contain any, making it an automatic winner in our books.
Because they contain DHA from Tuna fish and gelatine, Disney Gummies are not suitable for vegetarians. They also may contain traces of nut or nut derived ingredients, and the same for soya.
They do not, however, contain artificial colours and flavours, milk, lactose, gluten, wheat, or yeast.
The Gummies Multivitamins come in 60, 180 and 220 pill bottles, and there seems to be a huge discrepency in how much they cost. Amazon* has them from around £10, where as Holland and Barret* has the same thing with different packaging for £2.50.  Boots 3 for 2 offers* are a great way to stock up too.
The Good
These are so yummy, you'll have a harder time trying to get kids to NOT eat it, than the other way round. Fortunately it has the safety lid.
If you buy smartly you can get them at good deals.
Especially at this time of year, topping up vitamins can only help in keeping your little ones healthy and cheerful.
No Aspartame actually makes me feel a little happy on the inside!
The Bad
I can't really think of anything particularly bad here. I don't even think they're that expensive in comparison to other stuff and while they're not going to meet every dietary need, the kids will take them, which is fabulous.
The Verdict
Great little vitamins, really tasty, the children love them, quite affordable. I couldn't vouch for them from a medical point of view, but they're nice.  You've got nothing to lose in trying, really!