Disney Frozen Wall Sticker £4.51 Delivered @ Amazon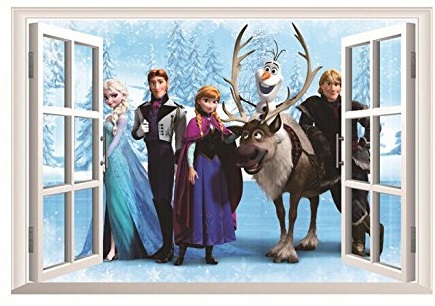 I just love this Disney Frozen wall sticker, which is quite unusual, and really pretty! It's £3.51, but there's a £1 delivery charge, so it's £4.51 delivered.
I love the idea of this 'window' to look out of over the cold and wintery months when there's usually not very much to see outside our window anyway.
It's such a lovely picture of the Frozen cast too.
According to the information on the item, you can use it on any smooth surface of a bedroom, living room, bathroom or other wall. They say it's easy to apply, remove, re-position and reuse without leaving damage or residue.
This picture is 40x60cm, so it's a decent size, although not as big as they're making it out to be in the pictures and I'm sure it's something every Frozen fan will love.
Personally, I'm thinking of using it as decor for a Frozen party - nothing like your beloved characters looking in on the party (except them being there, I guess!) - or on the window of the conservatory. It may be too cold to use for most of the winter, but may as well still look pretty!