Disney Frozen Vests £5 Online Only 5 Pack Knickers £4.50 Instore Only @ Tesco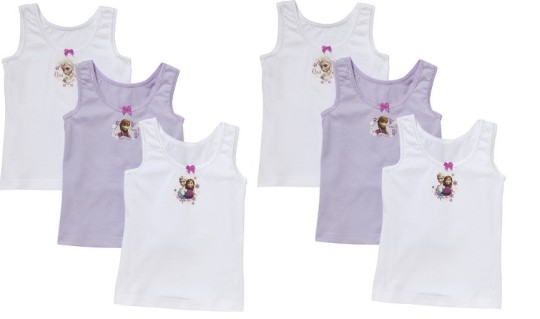 Tesco are selling a three pack of Disney Frozen vests for £5, they are only available online though, so if you buy online you can collect them instore for free. While you're there, have a look and see if you can find the 5-pack of Disney Frozen knickers for £4.50, since these are available in store only.
It's getting really cold already, and my kids are having to dress up nice and warm on all their adventures. I'm pretty sure it'll be a lot easier getting them into vests when they're decorated with Anna & Elsa - in fact I bet it'll be harder to get them out of them too!
These vests are made from soft, pure cotton, making a warm base layer to wear underneath shirts and tops.
The vests feature pretty character motifs from Disney's Frozen with bows at the round neckline. One vest features Anna, one Elsa, and one the sisters together.
The Disney Frozen vests are available in sizes 18 months to 6 years, and right now, all the sizes are available.