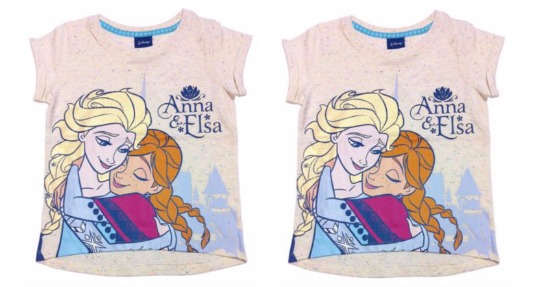 We know Frozen is as big as ever, so this is worth grabbing a couple and putting away for birthdays now while it's at this silly price. This Disney Frozen T-Shirt had the daft original price of £9.99, but has now been reduced by a huge amount, and is now £2.99 with FREE DELIVERY!
I have no idea why it is so cheap, as it seems like a perfectly lovely t-shirt for little Frozen fans. It comes in all sizes between 2 and 8 years of age, is made of 95% cotton and 5% polyester, and is machine washable.
The link above will take you to the 2 - 3 years size, but just use the drop down size box to choose the one you need and you will be redirected, as all sizes have a different item code.
Stocks seem to be really widely available, and you can collect from store if you wish, but why bother when Argos are offering free delivery on this as well?
I think these will fly out at this price, so grab them quick!