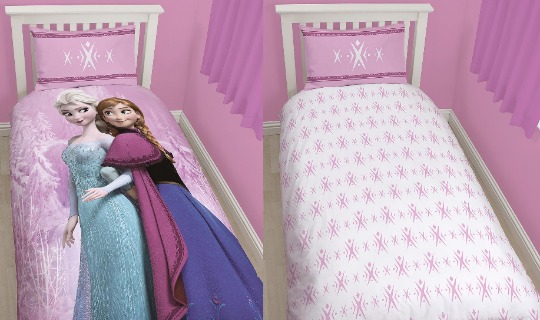 It's pink and it's Disney Frozen, there's nothing to not to like about the Disney Frozen Reversible Pink Single Duvet Cover Set from Very. It's not expensive either, in fact Very have slashed the price of it down from £29 to just £8.50. No way would I have paid that original price but for just £8.50 it's a great price.
The Disney Frozen Reversible Pink Single Duvet Cover Set comprises of a single duvet cover and one matching pillowcase. On the front is Anna and Elsa and on the flip side is a nice pink and white pattern. It doesn't say what material it is made out of but it is machine washable. I am yet to see a duvet cover set that isn't.
I like this one because it's a bit different than the others that pop up as reduced a lot of the time. It's ideal for those little ones that already have a pink themed room. Not to mention cheap enough to keep as a spare.
You can choose to Collect+ your Disney Frozen which means you can pick it up from a participating local shop at your convenience or you can pay £3.95 to have it delivered to your door.