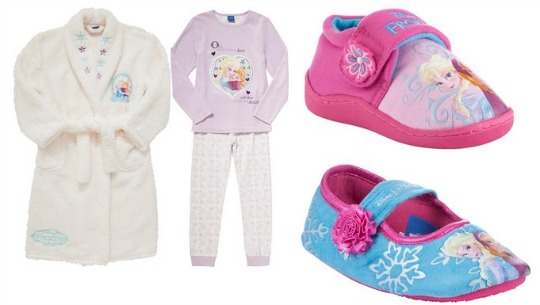 F&F over on the Clothing at Tesco site have launched new Disney Frozen nightwear items. They start at just £7 and are begging to be put into a Christmas Eve box. Imagine those little faces! I have one message to Tesco though, some boys Frozen nightwear would be nice! My boys love Frozen, and it's such a shame that retailers neglect the fact that little males love Anna & Elsa too.
With four new nightwear items, there's a reasonable choice of pieces you can buy as a special treat or as a Christmas present. I absolutely adore the slippers they have brought out.  There's two to select from Ballerina Slippers at £7-£8 and Closed Back Slippers at £8.
The pyjamas are velour and will be super soft and mega cosy for little ones on cold nights. These cost £10-£11 and are available in sizes 5-6 and 7-8 years old. Unfortunately, these are selling like hot cakes and so you will need to be quick if you want them.
Imagine your child running into the living room to open presents with the luxurious Disney Frozen Supersoft Dressing Gown. It looks very sumptuous and quite frankly I want one!