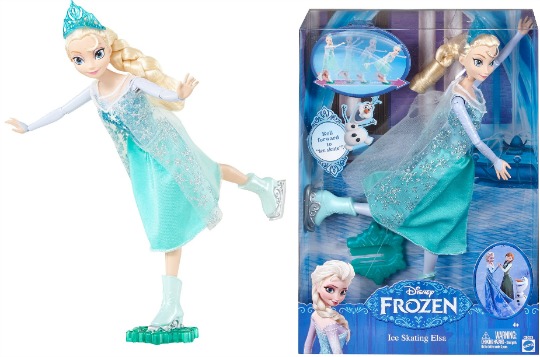 Amazon have just dropped the price on this popular Frozen doll by 27% from £29.99 to £21.89 and as it's over £10, super saver delivery is automatically free.
There are so many toy offers on at the minute, Argos 3 For 2, Tesco sale with boost, Smyths £6 voucher and 20% off at ELC ,to name but a few, it can be difficult to work out which offers are best and really it depends what you're wanting to buy. Argos 3 for 2 is a great offer but as Amazon often price match with one third off, it pays to keep an eye on any single items you're after.
This Elsa skating doll is on many "Top 10 Christmas Lists" for 2014 and as a single item it looks like a good price. Even using the Smyths £6 voucher it would still cost you £22.99 and you'd have to pay delivery on top.
The Ice Skating Elsa can be guided along while holding her ankle and as she rolls forward her arms and legs move. How her legs move may be something to be aware of though, have a read at this review :
 As a father of a six year old girl this doll was always on the radar, Frozen has been a big smash even for Disney.

This doll is pretty neat, think Barbie size and proportions, add in a glitzy box and finish it off with a fancy skating action.

The skating action is pretty cool looking, there is one leg that is not articulated, the foot of this leg has a little wheel sticking out of the bottom of the ice skate. The doll is pushed along on this rigid leg, the wheel turns and the doll bends forward at the waist, the head tilts back, the other leg bends up behind the doll and the arms spread out. This looks very elegant and like a proper skating move.

As well as this the doll is playable with in its own right. My daughter has had loads of fun removing the costume and (despite my advice) taking her hair out of very neat plait.

A very nice figure that accompanies the movie, really pleased with this apart from the price. My girl is now shouting for the other figures. Happy days!
But all in all quite positive. Some reviewers felt it was overpriced and while the original price of £30 can be expensive for a doll, if it's on a Christmas list, well it's on a list.
Thanks to sleepynsnoozy @ HUKD!