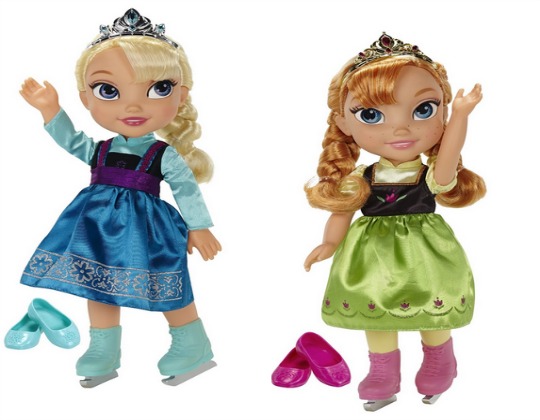 These are the cheapest we have seen these Disney Frozen Ice Skating Anna and Elsa Dolls. You would normally expect to pay over £20 for one of these, but Amazon are selling them for just £13.48. They are selling for £24.99 each at Smyths Toy Stores, so you can see what a bargain these are. You can choose between Anna or Elsa, but I think Elsa will sell out first, so be quick.
Both of the Disney Frozen Ice Skating Toddler Anna and Elsa Dolls can be 15" tall. Their eyes are sparkly and their hair is brushable, so it can be styled just how your little one wants.
Elsa is wearing her signature blue dress with matching ice skates on and Anna in her green number, also with matching skates and tiara included.
These Disney Frozen Dolls are suitable for children aged three years old and over. It's the ideal gift for any Frozen fan that hasn't got this one yet.
To get these delivered for FREE you must include them in an order totalling £20 or more. You could always buy both Anna and Elsa together to make that postage saving. If you just want the one then it's just £3.30 for delivery.