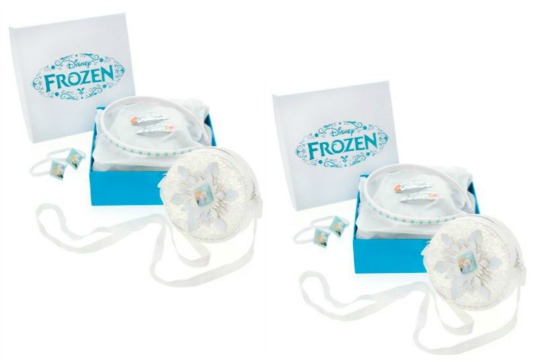 This has to be one of the nicest Frozen sets I have ever seen. It's currently half price at Argos and to be honest it looks worth it's original price of £9.99. To get it for just £4.99 seems like a real good bargain to me. Some of the Disney Frozen bits and pieces I have seen in the past were a bit on the cheap and nasty looking side but this isn't. It even comes in a pretty gift box complete with a gift tag, so you can present it to that little birthday girl. Inside the accessories are all cushioned in delicate tissue paper.
The Disney Frozen Hair Accessory Gift Set contains a total of FIVE accessories. The description isn't the best on the Argos site so here's what I see from the photo: A Snowflake design little bag/purse, two hair-ties/bobbles, two hair clips and an alice band.
The set is different from all the others on the market as it's all white rather than that icy blue colour that is used a lot. I really think that the items are so subtle in this set that they could even be worn at school.
You can reserve and collect this Frozen set for FREE or pay £3.95 for home delivery.