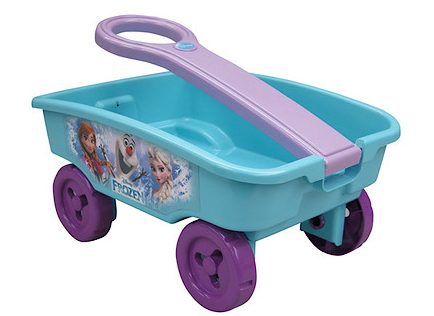 The Entertainer are selling the Disney Frozen Eternal Winter Wagon for £7.50 with free collection to a store near you. You can also have it delivered, but that's £10.49 all in.  We had other Disney Wagons earlier in the year for £5.50, but this is the first time I've seen them in Frozen theme, and lets face it - that's probably what most little ones are after!
If your kids are anything like mine, carrying and carting little bits and pieces around in bags and purses is one of the best games in town. I think the kids would love this wagon, more so because it's Frozen, but even in and of itself.
What I love about this one is that even though they say it's for little ones to pull their toys along on - and you know they will and will relish it - it has a whopping 20kg capacity, which means my four your old would very easily be pulling her two year old sister along on it! I just know they'll have masses of fun on it - (Not what it's made for, I know, but try and stop them!)
It is made from plastic, and the handle folds away for storage, which is a wonderfully considerate feature!