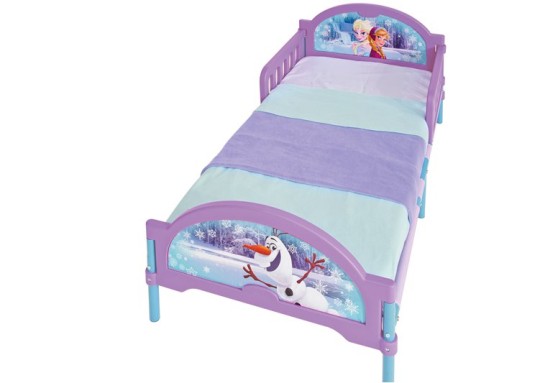 This isn't a deal so much as it seems to be the only place to find a Disney Frozen toddler bed - not the bedding, or the cushions, no my dears, the actual bed. Well, that will make a room, I think.  The bed is £89.99 delivered from Price Right Home, and I can't find a Frozen bed anywhere else to do a price comparison on.
Use the code FB2014 for 10% off.
You can choose this bed with or without a mattress and they give you three mattress options.
Without a mattress the Disney Frozen Bed is £80.99 and you can pre-order now for October delivery.
With a 7.6cm foam mattress, the bed costs £103.49 but it won't be dispatched until mid October.
With a deluxe foam mattress of 10cm, it will cost £106.19 with the same dispatch time, and with the fully sprung mattress it'll cost you £121.49.
This bed is a brand new design, and provides little ones a simple transition from cot to single bed. It has safety side to prevent falls off the bed and the headboard, footboard and safety sides are blow-moulded.
The Frozen bed itself is a tubular steel bed frame, so it should withstand toddler shenanigans and the graphics are printed on (not stickers).
It comes with step by step instructions that promise simple and fast assembly.