Disney Frozen Car Booster Seats From £9.32 @ Argos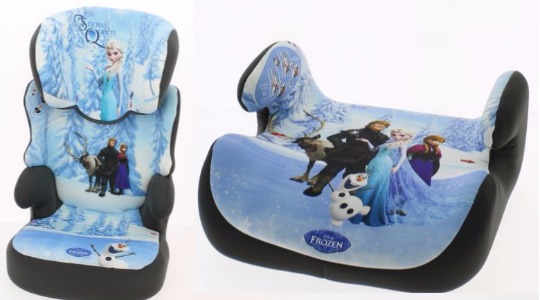 You have got the Elsa Outfit, you have got all of the toys, there really isn't much you don't have. Do you have the Booster Seats though? Argos have reduced two Disney Frozen Booster Seats: the Group 2-3 High Back Booster Seat for £29.99 and the Topo Booster Seat for £9.32. These are a must for any Frozen fan that is too stubborn to get in the car.
If you want a Booster Seat that is easy enough to sling in and out of the car. Or perhaps you are after a Booster Seat to keep in the boot of Granny's car? The Disney Frozen Topo Booster Seat is pretty basic but all it is required to do is to "boost" your child to the correct height for a standard car seatbelt to work effectively.
It is suitable for children aged four to eleven years old. The cover features all our favourite Disney Frozen characters. With a FIVE star rating on Argos, it's safe to say it's good for the money.
The Group 2-3 High Back Booster Seat also has a FIVE star rating. The main difference with this seat to the Topo Booster is that it features a height adjustable head support with side impact protection.
You can Reserve and Collect the Booster Seats for FREE from your nearest Argos store or pay £3.95 to have it delivered.