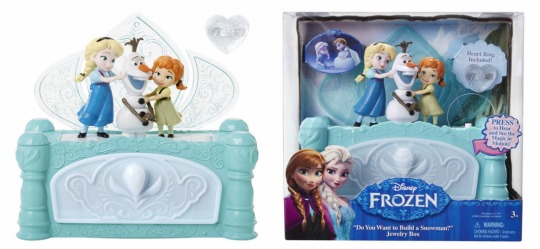 If you're looking for a special present this Christmas for a little Frozen fan then you cannot go wrong with this Musical Jewellery Box. My 3 year old daughter saw this in a toy shop last week and I couldn't tear her away from it! The 'Do You Want To Build A Snowman' Musical Jewellery Box normally retails for £24.99 but at Amazon and Smyths they are currently selling it for just £19.99.
What I like most about this jewellery box is the fact it plays something other than 'Let It Go'! I know most children love Elsa but my little one much prefers Anna and the songs she sings, however its quite hard to find Anna musical toys!
This Musical Jewellery Box features a young Anna and Elsa building Olaf and plays the song 'Do You Want To Build A Snowman'. There is a drawer to store jewellery in and also included with the set is a sparkly heart ring, perfect for dressing up.
Home delivery at Smyths is £2.99 or free for orders over £29 or you can choose to Click and Collect to your local store for FREE. Amazon home delivery is free for orders over £20 or if you have Amazon Prime, otherwise prices start from £3.30.