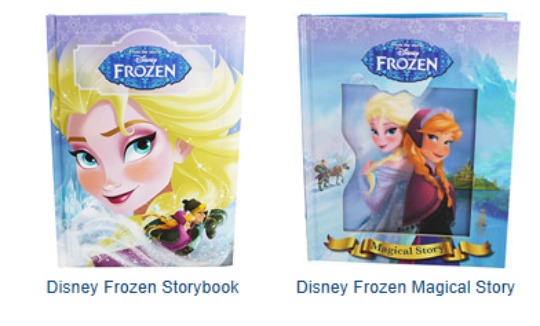 You can choose from the Disney Frozen Storybook (RRP £9.99) or the Disney Frozen Magical Story (RRP £3.99) for just £2.99 each delivered. You need the free delivery code which is FREEDEL for this price.
Is there anything left to say about Frozen? I'm not sure. These books are just £2.99 and that free delivery makes than a nice little treat for any fan. Whether it's to keep them amused on journeys over the summer, rainy days over the holidays (we know there will be some right?!) or even to buy and put away for stocking fillers, now is a good time to grab them.
The Frozen Storybook has 64 pages and measures: 28 x 20.2 x 1.3cm, while the Magical StoryBook has 32 pages and measures: 21.8 x 18.2 x 1cm. We have both books and both are lovely for any fan but the Storybook is a great buy at £2.99 with free delivery. It was on the Disney Store website for the full RRP of £9.99 recently and sold out quickly.
To order simply pop your chosen books into your basket and enter FREEDEL to get that free delivery. You may need to change it to the 4-6 day option to proceed at checkout. Don't hang around though as that code for free delivery with no minimum spend ends tonight!
You'll find that voucher code for The Works and lots more over in or voucher section.