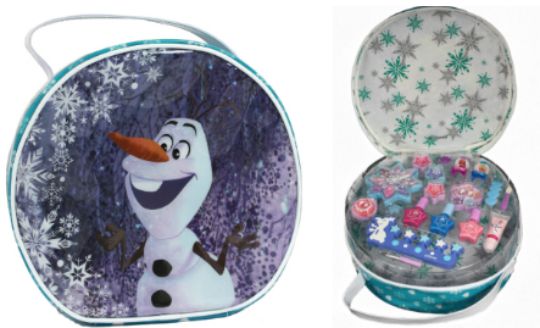 Do you buy your little one face paints or children's make-up sets? When I was little I wasn't allowed make-up but I was allowed to have my face painted. I never understood why. My boys can put whatever they like on their faces as long as it's for dressing up and not for everyday use. Let us know what your view is on children's make-up sets. If your kid adores them then head on over to Lloyds Pharmacy, where you can get the Disney Frozen Beauty Bag for just £5, reduced from £9.99.
The Disney Frozen Beauty Bag contains a Re-useable Frozen bag, an eight lip gloss snowflake palette, three star lip gloss pots, a five cream eye shadow palette, two lip gloss rings, a lip gloss, a blusher, three nail polishes, three hairclips, Olaf toe separators, a sponge applicator and a brush applicator. Everything your little one needs to recreate that Elsa look.
You can Click and Collect the Disney Frozen Beauty Bag for FREE from a Lloyds Pharmacy near you or pay £2.95 to have it delivered to your front door.