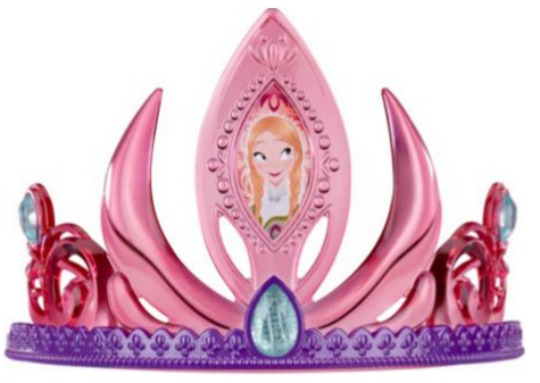 Kids still daft on Disney Frozen? Grab one of these Disney Frozen Anna Tiaras for just £4.99 including FREE delivery. It's half price and back in stock. For what seemed like ages, this dressing up accessory has been out of stock but now it's all yours. Think of a little extra to put with that birthday present or what about buying one for the party present box?
The Disney Frozen Anna Tiara is ideal for finishing off that pretty Anna dress. What is it about a tiara that makes you feel like a princess? I recently bought one for my wedding and I have tried it on no less than fifty times.
It's made from pink and purple plastic and has been rated 4.5 stars on the Argos site. The Elsa version* of this is still £9.99 which is a shame as it would be nice to give the two together as a gift. I am sure it'll come down in price eventually. You can buy the matching Anna jewellery set* which is also half price at £4.99 with FREE delivery.  The Elsa one* is at the same price also.