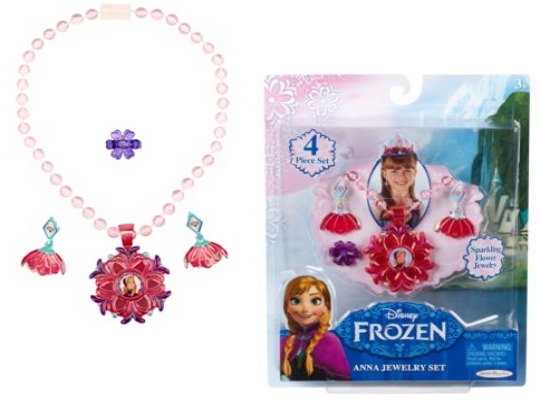 Earlier I mentioned how much I hate shopping for presents for other peoples children. I just find it hard to find something that they will like. You ask your child for their opinion only to be met with I don't know! So, when I see items that are generally inoffensive and generically pleasing I pop them into my party presents box. This Disney Frozen Anna Jewellery Set is a classic example of what I buy to put in the box. It's reduced to £4.99 from £9.99 and includes FREE delivery. The very same set costs £7 at The Entertainer.
The Disney Frozen Anna Jewellery Set contains three pieces: A purple ring, a dazzling pink and purple necklace and a pair of earrings. It is suitable of children aged three years and over.
If your little one loves Anna, then she will just adore this set. It's cheap enough to give as a reward of exceptional behaviour or if parent's night resulted in a great report. Now and then we put our children on a reward chart to keep them on the straight and narrow and if they improve they get a surprise. It would also be nice if paired with an Anna outfit.