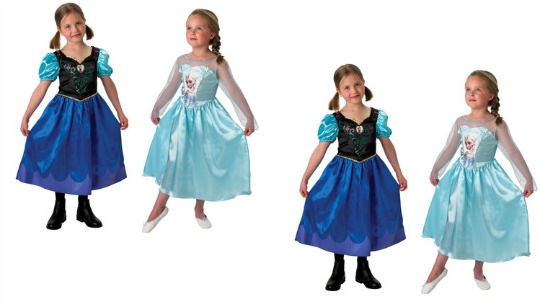 Only Age 5-6 left, spend another 1p and use code BIRTHDAY7 for £5 discount. I'm not going to spend a lot of time on this one, as when I spotted it ages 3-4 and 7-8 were also in stock but they've gone now leaving only age 5-6 years.
It's described on Toys R Us as :
"Dressing up clothes for hours of fun! Recreate your favourite scenes or embark
on your own magical adventures with this wonderful dressing up twin pack of Anna
and Elsa from Disney's Frozen!"
It has no reviews for us to go on but if you can add a cheap item and use that £5 code, this two pack of dresses for £25 is a bargain! If you're looking for something cheap to take you over the £25 mark and let you use that code these Jet Balls* at 96p and will do just that. Add the twin pack of dresses, your  Jet Ball, add BIRTHDAY7 in the promo box and it will be £25.95 delivered in total. Not bad at all.
You'll find that promotional code for Toys R Us and lots more over in our voucher section.