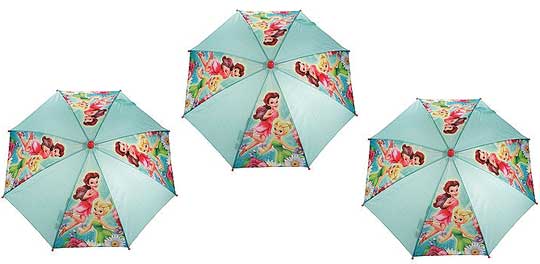 Tesco are selling this Disney Fairies umbrella for £4.50; the usual price elsewhere seems to be around the £8 mark.
How are you doing with all the rain we've been having? The hosepipe bans and emergency drought orders we witnessed at the beginning of the year, feels like a time from distant days gone by - another era in our history, in fact. Okay, maybe not quite that far back, but enough of the rain now - it's been relentless and HECTIC in a lot of places!
Still, if you're little and have an umbrella featuring your favourite characters, then you can't wait for it to rain - I can just picture my little niece, hopping up and down and hoping for rain so she could use her Disney Fairies umbrella on the way to school.
I'm sure I don't need to go into the product spec' of the Disney Fairies umbrella, do I - it's a brolly, it'll keep you dry in the rain.
You can ask Tesco to deliver your Disney Fairies umbrella to your door, but it's going to cost you an additional £3, making it much more sensible, and frugal, to arrange to collect it in-store for free.
Thanks to wishihadadonkey at HUKD