Get ANY Two Disney DVDs Or Blu-Rays For £11 Delivered (With Code) @ Xtra-Vision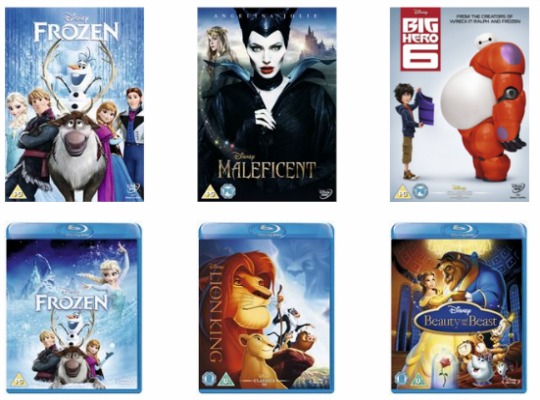 Not many places are still doing 'Buy One Get One FREE' on Disney DVDs and Blu-Rays. They really do make great Christmas Gifts for children (and Disney daft adults like me), and with BOGOF on, they are affordable too. Xtra-Vision have this super offer on all of our Disney favourites plus use promo code DISNEYCRM at the checkout and you can get ANY of the TWO Disney DVDs or Blu-Rays for just £11, working out at £5.50 each. That works out even better than BOGOF on most of them. Plus they throw in FREE delivery too.
That promo code even works on the Disney DVDs/Blu-Rays that are priced at £17.99. for example you can order Dumbo Blu-Ray* for £17.99 and Disney Lion King Blu-Ray* for £17.99 and use that code. You will only pay £11 for the two, including delivery. That's a total saving of £24.98!
How about Maleficent DVD* at £12.99 and Big Hero 6 DVD* at £12.99? You will only pay £11 including delivery, meaning you are saving £14.98 in total.
This is a fabulous offer and a great way to get some cheap Stocking Fillers bought  or even if you're looking for ideas for those Christmas Eve Boxes* I would be quick though as this offer is so good, we can see sell outs happening.