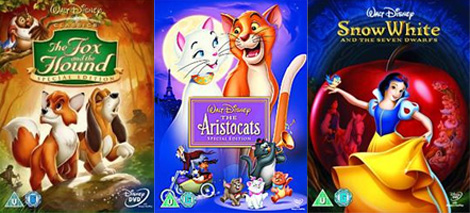 Tesco Enterntainment currently have a Buy One Get One Free offer on Disney DVDs
I have a bit of a love-hate relationship with Disney DVDs - I love to have them, I hate paying over the odds for them just because they're made by Disney.
AND I really despise it when they put titles on limited release, 'buy this hugely overpriced Disney DVD now because we're not going to release it again for another 10 years at least. THEN we'll release it as a 'Special Edition' version just so we can charge you EVEN more!' ARRGGGHHHH.
It's almost enough to make me NOT buy Disney DVDs.
But then along come Tesco Entertainment with BOGOF deals on them and I get tempted all over again.
I have some favourites that would bring back some childhood memories - The Fox and the Hound (I remember sobbing in the cinema at the end of that) and Pete's Dragon particularly.
Normal DVDs cost £15 and the Blu ray versions cost £20 - so effectively, you're paying £7.50 or £10 for each, which for Disney DVDs isn't bad.
There's no delivery to pay on UK orders, you'll get double clubcard points too AND, this deal is available in my local Tescos as well...it might be in yours, have a look the next time you're in there.