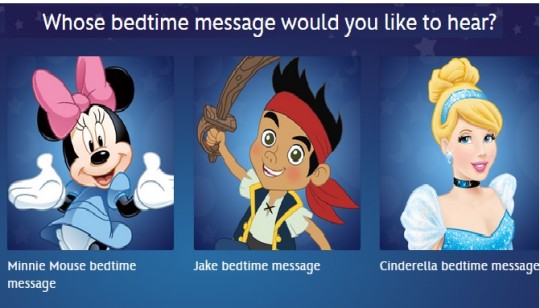 If you have trouble getting your little ones to bed at night, Disney may have a little help for you. There's a new service launched this week whereby you can send a text to Disney and the character of your choice will ring you back and give your little one a 'go to sleep now' message. Disney's aim is apparently to help families get back in the swing of 'back to school'.
What you're getting is basically a recorded message, but when we tried it with my four year old earlier she was over the moon and thought it was the best thing ever.
How does it work? 
Well, to get a beloved character to call you, all you have to do is text either:
Mickey
Minnie
Cinderella
Jake
to 78000
A few seconds later you will receive a call with a message telling you to hand the phone to your child.
10 seconds will pass, and an automated message will start playing, telling the children to brush their teeth, and snuggle up in bed, before a message from 'a special friend of ours' starts playing.
It's really sweet and the kids love it!
How much does it cost
Your regular network fee will apply, but the service and the call back itself is free for up to 10 000 calls till the end of September.
Like this blog? Great! Make sure you like PlayPennies on Facebook for the best blogs each day!