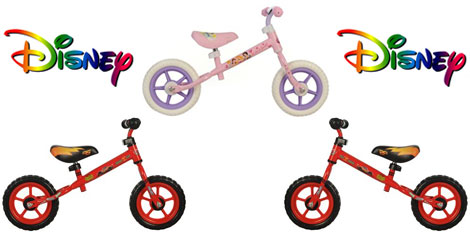 Sports Direct are selling these Disney balance bikes for half price - £15 each instead of £29.99
We've had numerous discussions about balance bikes in the PlayPennies office: are they just weird and have their pedals missing? Or are they fabulous and make learning to ride a bike much easier?
We've still not come to any conclusions but, for my money, I think they're a bit odd and I can't see HOW they make the transition to a bike with pedals quicker and easier - feel free to enlighten me.
Anyway, these two Disney balance bikes have adjustable seats so it doesn't matter if your little rider is shorter or taller for their age.
Unless you go to a bike shop, you'll find that most bikes are delivered in pieces and these Disney balance bikes are no exception - at the very least you're probably going to have to attach the wheels and possibly the handle bars.
Delivery within 24 hours will cost you £5.99, standard delivery takes a little longer and costs £3.99.
Thanks to Chocka at HUKD