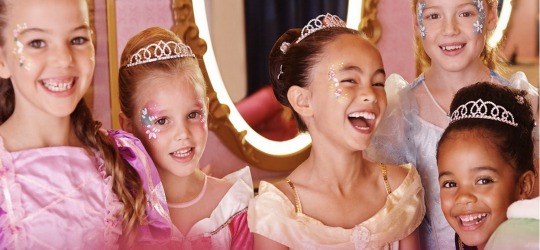 Have you heard about the Disney Bibbidi Bobbidi Boutique at Harrods in London? If you have a young girl who loves Disney Princesses then this is the ultimate gift experience for them.
It involves a session at the boutique where they get to be transformed into a Princess by their very own special Fairy Godmother! They can choose which Princess they want to be, and the Frozen Experience is massively popular. There is also a new CinderellaExperience package with a choice of dresses and accessories (including the lost shoe) based on the new live action film due out next month.
What is included varies, but they will get an outfit, their hair will be styled as their favourite princess, and they will have their face painted with beautiful sparkly detailing too. At the end of the transformation the Fairy Godmother will wave her magic wand, say the magic words "Bibbidi Bobbidi Boo" and your child makes their princess vow!
It doesn't come cheap, but the packages are tailored to suit different budgets, and what they include in terms of photographs, outfits and accessories and so on varies with the package you choose. Prices start from £100, and go up in degrees to the somewhat scary £1000 for the Royal Princess Experience.
Amazingly they even have a Knight Experience for boys as well, and this costs £50. Though the price is much less, what you get from it is also less, but at least they have something for the non-princess fans and brothers!
So, what do you think? Is this a good way to give your little princess an unforgettable experience?