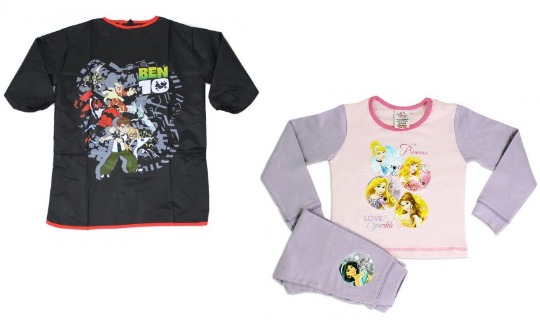 If you have never heard of Character.com I only have one thing to say to you, "where have you been?" They keep churning out the bargains and we shout it from the rooftops. Kids prefer clothes with pictures of their favourite television/film characters on and who are we to stand in there way? Character.com have a clearance on just now and items start from just 50p.
There's a total of 41 items in the clearance and most of them are for the boys, but there's plenty of unisex and girls too. To be honest I am impressed with what is 50p. The Ben 10 Activity Apron* is now only 50p, these are a pain in the butt to find never mind get for so cheap.
I personally highly rate the pyjamas sold on Character.com and would go as far to say the ones I have bought in the past were better quality than ones from the like of Asda George and F&F.
These Disney Princess Sparkle Pyjamas* are in the clearance and are now only £3.95 as are these Girls' Toy Story Jessie Pyjamas* for £2.95. If you have an Adventure Time fan in your home then grab this Adventure Time T-Shirt* for just £4.95.
Delivery costs £2.95 plus 50p for each additional item unless you spend £25 or over then it's FREE.