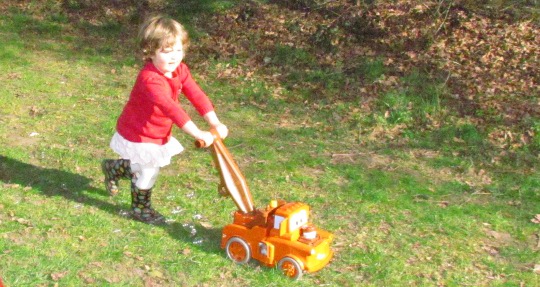 Lovably simple Mater is probably the most popular and recognisable character in Disney's Cars franchise, but the Cars 2 Bubble Mater brings the toothy tow-truck face to face with something he's probably seldom seen before: soapy bubbles.
The plastic push toy from Fisher Price holds a bottle of soap solution "under the hood", with an outlet down the right hand side sending out a stream of bubbles as you push him along.
Assembly is really easy. The push handle clips into the main truck, the soap bottle screws into place on a special fitting and is slotted in upside down, and you're ready to go.
The mechanism that creates the bubbles operates similarly to a flywheel, and it seems you need to build some momentum to get it up to sufficient speed to produce the bubbles, while it continues to turn for a few seconds after you've stopped pushing.
It's a system that means you have to get up to a certain speed for the bubbles to start appearing (but my two year old can handle it), and often they come in bursts rather than in a constant stream. Personally, this didn't bother us too much, but looking at comments from other buyers it did bug some people.
For us, the only letdown is where the bubbles emerge – down the right-hand side (basically where the driver's door would normally be) and quite close to the ground too. It means most of the bubbles produced in our various attempts to get the best out of the Bubble Mater barely went anywhere before popping on the ground, despite producing a pretty good stream of bubbles.
That said, it did also attract plenty of attention from other kids when we tried it out at our local park, and especially little boys were in awe of it, running up for a push. We had to keep a close eye on it, and our little girl had to stand her ground not to have him removed! Though that's probably as much about the popularity of the Mater character itself as anything else.
And with the Cars 2 Bubble Mater costing over £30 to buy, you're certainly paying for that popularity, but if you can justify the price tag, the kids love, love, love it.