Bambi Single Duvet Cover £7 @ Tesco Direct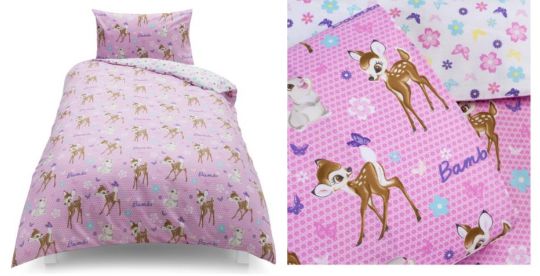 This Disney Bambi Duvet Cover is so cute, and it's also a pretty wonderful price as it's only £7 at Tesco Direct! It's a single sized duvet cover with matching pillow case in a pretty pink colour, featuring a pattern if Bambi and Thumper. It's got a contrasting pattern on the other side of flowers so that you can flip it over for a different look.
This set is 50% cotton and 50% polyester so it's easy care and can be machine washed and tumble dried. It's also included in the current Tesco Clubcard Boost so if you are spending some of your points this will only cost your £3.50 worth of Clubcard Vouchers!
You can use the free click and collect service, or home delivery will add a £3 charge.