Baby Clothes Bargains: From £3.99 @ Argos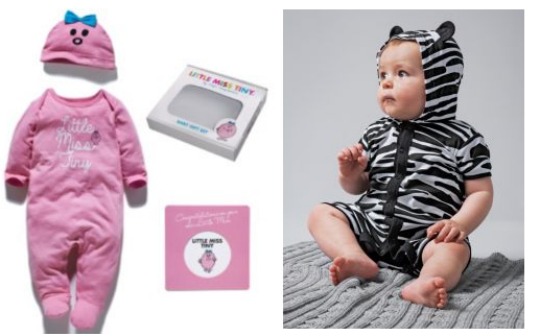 Argos sell clothes which I found out last year. It still baffles me a bit, although I soon get over that each time I look at the prices. They cut prices left, right and centre. Just now, they have some tremendous Baby Clothes bargains, so if you are on the look out for your own bundle of joy, or someone else's, then it's worth a look. Items start from only £3.99 and some include FREE delivery.
There isn't a huge choice of baby clothes at Argos but what they do have is lovely, not to mention, cheap. Many items are reduced like this Disney Princess Rapunzel Baby Tutu Bodysuit*. It was £9.99 and is now only £4.49.
Here are my top picks: Little Miss Tiny Gift Set* was £11.99 now £7.99, Girls' Pretty Dress* was £14.99 now £6.49, Baby Zebra Hooded Romper Suit* now  £3.99 and Lollipop Lane My Very Own Two Piece Gift Set* was £24.99 now £16.99 delivered.
You can Reserve and Collect many of the Baby Clothes items for FREE from an Argos store near you or pay £3.95 to have them delivered to your front door.