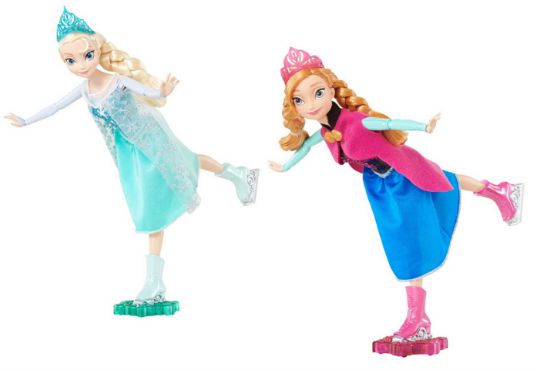 This is the cheapest I have ever seen the Disney Frozen Anna and Elsa Ice Skating Dolls. Reputable Amazon Seller ABCZoneLtd have them priced at just £10.35/£10.34 plus £4.62 delivery. That means you are getting the Anna Skating Doll for £14.97 delivered and the Elsa one for just £14.96 delivered. This is a brilliant price compared to Very who sell them for £37, Argos for £24.99 and Toys R Us for £34.99.
The Disney Frozen Anna/Elsa Ice Skating Dolls are super popular and I didn't think I would ever see them so cheap. Especially not at this time of year. I just have to snap one up and tuck away for a Christmas present.
Each doll attaches to her baseand will 'ice skate' when you roll her forward. The doll's arms and legs move too just like a figure skater. Both are dressed in their signature gowns just like on that Disney bestselling movie.
At this amazing price, you could buy them both for less than what some of the retailers are selling one. You can't ask for better than that!