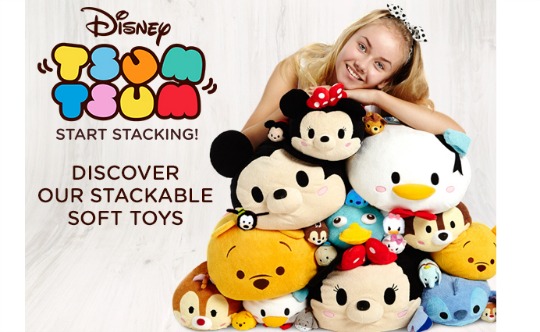 Heard of Tsum Tsum? They are new cuddly toys with an incredibly unique sort of squished look, and their name comes from the word "stack" because that's what you can do with them! I saw them in Clintons last week and they looked so cute! They are very soft and fluffy, and the mini ones that are £3 looked amazing.They come in so many favourite characters that it's not hard to see that children will soon be building up their collections of these with every birthday!
To help launch the Tsum Tsum toys when you add any one of them to your shopping basket online at The Disney Store your delivery charge (that daft £4.95) gets halved. Seeing as the cheapest of the Tsum Tsum are only £3 this seems like a great way to try them. If you were already placing an order it makes sense to pop a mini one in your basket.
So what do you think? Will these soon be stacked high in every bedroom in the country?