3 Frozen Chocolate Eggs With Figurines £4.19 @ Party Delights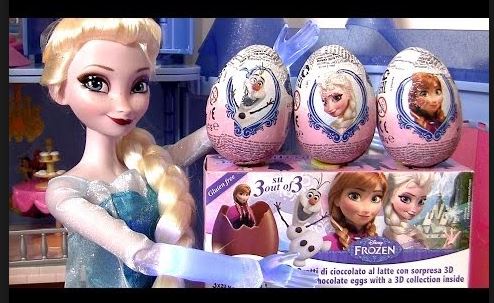 While getting the details on the Elsa Dress that's back in stock at Party Delights, I spotted these Frozen Chocolate Eggs with Figurines that you can buy from them too. Even our resident Frozen guru hadn't seen them before, so we think they're something a little new and fabulous. You get three eggs in your £2.99 order, but there's £1.50 for delivery too. You can at the moment also include the 10% FESTIVAL10 promotion code to get 30p off, so all in you'll pay £4.19 for 3 eggs, 6 eggs would cost you £9.33 as your delivery goes up to £3.95 - in otherwords you're better off ordering twice if you want more than 1 set.
So, the best I can tell you about this is that it's similar in idea to Kinder Eggs. It's chocolate, wrapped in Frozen themed paper with a figurine inside.
It contains milk and sugar, and three eggs. With Frozen figurines in. Have I said that?
We can see these as prizes, rewards, treats, in flight entertainment and just an excuse to feed the Frozen habit.
For this and other Party Delight promotion codes, see our voucher section.