3 for 2 on Frozen, Hello Kitty, My Little Pony and more brands @ Claires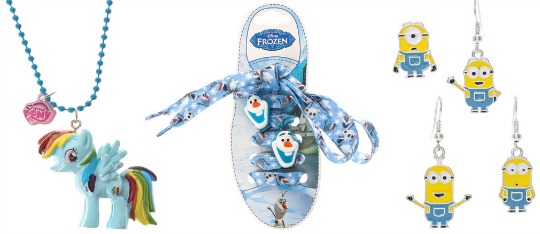 Claires have a 3 for 2 offer on all their licensed branded products right now. That includes Frozen, Hello Kitty, My Little Pony, Katy Perry, Disney Princesses and lots more. It's a mix and match offer across all the featured items, so you can just add any three to your basket and the cheapest one is deducted at the checkout.
There are more than 1000 things to choose from so you shouldn't have any problems finding something suitable, and as it's a mix and match offer you don't have to stick with one range.
You can choose from bags, hair accessories, jewellery, toys, make-up and everything else that Claires stock. The easiest way is to pick a character and away you go!
Some of the new lines they have in are just fantastic.  The Minions mix and match earrings and the Olaf shoelaces that are in the picture above are some of my favourite things, but it's worth a look at the new stock as that's included in the 3 for 2 as well.
Claires charge only £2.50 for tracked delivery, it's free when you spend over £25, or the click and collect service is £1.99.