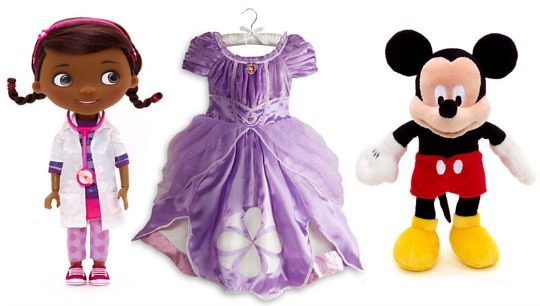 Today's Deal Of The Day at The Disney Store is 25% Off ALL Disney Junior, and it's exclusively online. There are goodies from Sofia The First, Doc McStuffins, Jake and the Neverland Pirates, and all the favourite characters from Mickey Mouse Clubhouse. The discount is taken off automatically but not until the checkout, so when you're browsing remember that everything is still showing as full price.
Some of the most popular things are always the costumes, and there are several of these at 25% off including the beautiful Sofia The First costume, and the matching shoes are also there to complete the transformation.
Doc McStuffins is getting more and more popular too, and little ones can get the full outfit and the doctor's kit all reduced, and the cute toys of Lambie and Stuffy are there to help Doc with her patients.
The other Disney Juniors characters gifts include clothing, figures, stationery, bath toys, puzzles, and lots more.
Remember that the Disney Store's 25% Off Disney Junior is online only, the price in stores will not be reduced, so factor in the £4.95 delivery charge that we keep complaining about. If you spend over £50 then Home Delivery is Free.