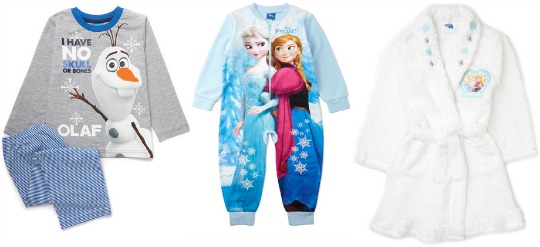 You lot just won't "Let it go!". You keep asking and asking for more Disney Frozen bargains, and we are just more than happy to oblige. If you head over to BHS today you will find Disney Frozen items (mostly pyjamas) with at least 10% off. All of them in fact have 10% off apart from a Frozen Backpack* with 20% off.
There's not a lot of Disney Frozen items at BHS, but we are always happy to blog about discounted merchandise. The Disney Frozen Elsa Dress* is normally £18, but today, you can get it for just £16.20. There's only size 3-4 years left.
These Olaf Pyjamas* are listed under girls' clothing, but I think they are absolutely perfect for little boys, so much  so I am grabbing a pair for one of my boys. It's so hard finding boys Frozen items. Get them from £10.80 to £12.60 (for larger sizes).
There's some nice, cosy winter slippers too, here*. These normally sell from £8, but have 10% off, so they are currently only from £7.20. Some children prefer a Onesie* to two piece pyjamas sets. This too has 10% off, making it cost from ££12.60.
Needing a bath robe* to go with these lovely night-time items? Get one from only £13.50, which I think is really reasonable.
Save extra £££ by collecting your Frozen items for FREE from your local BHS store.