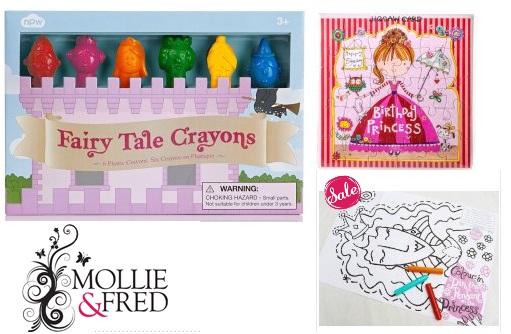 Mollie & Fred have 12.5% off everything at the moment, including sale items. I must say I do love Mollie & Fred. They sell gorgeous stuff, perfect gifts for people you don't know what to buy for.
Click here to browse Mollie & Fred*
Discount: 12.5% off everything
Expires: 26/10/2014

Code: 14BST12
The children's items are lovely things - these aren't cheap and cheerful plastic, but they are pretty and there are beautiful keepsakes.
The prices on kiddies goodies start at 86p, with the Egg Nogg Colour-In Pin the Pendant on the Princess* - perfect if you're planning a princess party anytime soon.
There's also the rather unique and unusual Rachel Ellen Happy Birthday Princess Jigsaw Card* for £2.62, which is more than I'd normally pay for a kids' card, but it could be a nice one for a 'special' card that ends up in a memory box.
Again, unique and unusual, the Fairy Tale Crayon Gift Set* (£2.62) is very different and cute. Not mass market, but individual. Love it.