(EXPIRED) 10% Off EVERYTHING (including Frozen & reduced items) Today Only @ The Disney Store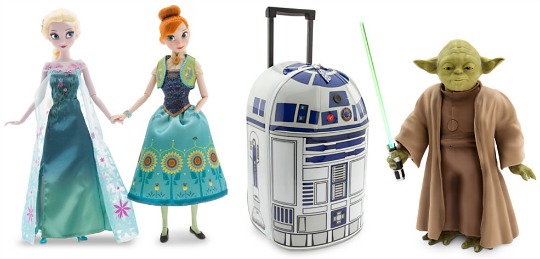 It's day 5 of The Disney Store's 5 Days Of Wonder and they have pulled a good one out of the bag for us - there is an extra 10% off everything, including lines already on promotion. And yes, this time it even includes Frozen!
There is no code to enter to get the 10% discount, it is automatically applied at the checkout. The offer started this morning (damn you my late email) and runs for 24 hours, so you have until 7.59am tomorrow morning to take advantage of this offer.
If you were dithering about the half price dolls, toys and Star Wars vehicles at half price like I was, then another 10% off on top of that makes it very tempting indeed!
I love the fact that this applies to goodies that are already reduced, so the extra 10% off will work on top of these offers:
50% Off Stationery and Puzzles
30% Off Baby Clothing
30% Off Summer Shop
25% Off Avengers Age Of Ultron
If there is anything you have had your eye on at all then this is the time to get it, as it's not often you get a promotion that applies to everything that is already reduced, and Frozen is nearly always excluded! Grab those Disney bargains now!