Great Stocking Fillers, £1 Delivery On Any Halloween Items & More @ Disney Store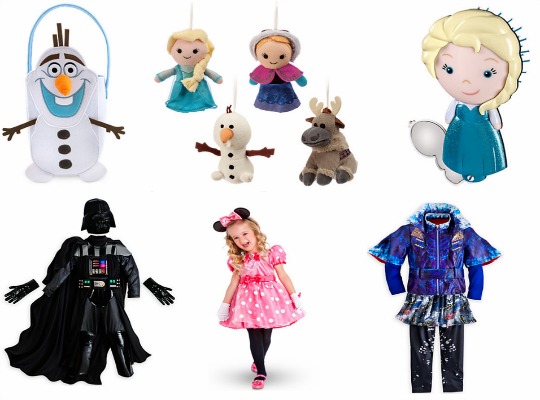 Disney Store are giving the other High Street retailers a run for their money, when it comes to Halloween offers. They have 25% off selected Dressing Up Costumes and are offering delivery for just £1 when you buy any Halloween item. The items applicable for the £1 special delivery rate will say so on their page. They also have some delightful, affordable Stocking Filler items too for Christmas.
Disney Store are the place to go for cool Halloween Dressing Up Costumes. Look at these: Toy Story Woody Costume* was £30.95 now £23.21, Doc McStuffins Costume* only £18, Minnie Mouse Costume* was £28 now £19.46, Darth Vader Light Up Costume* was £35.95 now £26.96 and Snow White Costume* was £30.95 now £23.21.
Descendants fans will go nuts for these Mal* and Evie* costumes. both priced at £30.95.
We couldn't LOVE these Trick or Treat bags* any more if we tried: Disney Princess*, Olaf*, Marvel Avengers*, R2-D2*, Minnie Mouse*, Spider-Man* and Sofia the First*. They are reduced from £6.71 to just £3.50.
Thinking beyond Halloween and you have Christmas. Check out these cracking Disney Stocking Fillers: Frozen Lipbalm Set* only £5.95, Princess Jasmine Nail Set* just £5.95 and Elsa Brush and Olaf Mirror Set* only £5.95.
How about some Disney Frozen Christmas Tree Decorations? The Set of FOUR Frozen Soft Decorations* is £18.95 and the Frozen Fever Ornament Set* is £39.95 .
If you have a little Frozen or Toy Story fan, make sure you check out these Figurine Sets too, usually £12.95 each you can grab them right now for only £6.99 per set. The Frozen set is here* while if it' Toy Story you're after that's here*. They'll show at the higher price on the link but drop to £6.99 each when you add them to your basket.
Home delivery is FREE of charge when you spend £50 or more, if spending less then it costs £3.95. If you buy any Halloween item then you will only pay £1 as mentioned above.