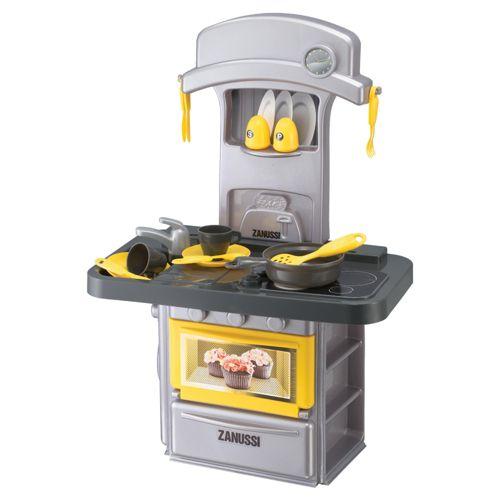 Amazon are currently selling the Zanussi My First Kitchen Set for £6.50 instead of £12.99. I say currently, because last week they were selling it for £5.35 and no sooner was it listed on HUKD than the price started to rise a few pence at a time till it ended back at £9 – something by the end of the day, so if you want one, act quickly because you just never know what Amazon will do!
So, lets see… this play cooker set has an opening oven door, with a picture of three perpetually baking cupcakes – fully iced, mind – on the door.
It comes with hob dials, a sink and a toaster as well as 14 accessories. Looking at the picture, those seem to include salt and pepper shakers, plates, saucers, cups, cutlery, a frying pan and spatula. It looks as though it is set up to serve three.
Apparently these are based on a real life Zanussi kitchen, if that makes any difference to you.
Play kitchens are such a great place for role play and I just love watching our daughter try to imitate our kitchen prowess.
Thanks to Pupa at HUKD