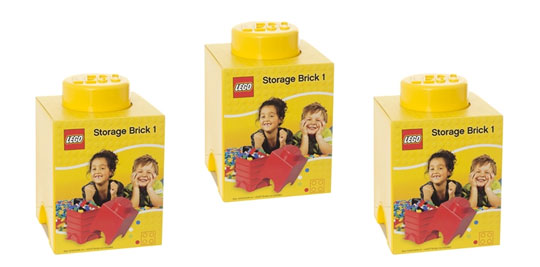 Play are selling this yellow LEGO one brick storage box for £4.99, its different coloured cousins are still selling for between £6.99 and £11.
I'm really tempted to buy a couple of these LEGO one brick storage boxes for my youngest to stash some of his LEGO - it appeals to my sense of humour to store LEGO bricks inside a LEGO brick.
Of course, you don't have to be a child and own lots of LEGO to want one of these LEGOone brick storage boxes.  There are plenty of AFOLs out there who'd love to have a few of these around the house - they're Adult Fans of Lego (and that really is their official acronym!).
I like to think outside the Lego Brick and I can see the one brick storage boxes in really funky modern retro kitchens, as fun alternatives to the, usually, boring tea, coffee, sugar jars.
The LEGO one brick storage box measures L:12.50 W:12.70 H:18.10cm and can be stacked together just like proper LEGO bricks; awesome.
Thanks to OnlineShoppa at HUKD