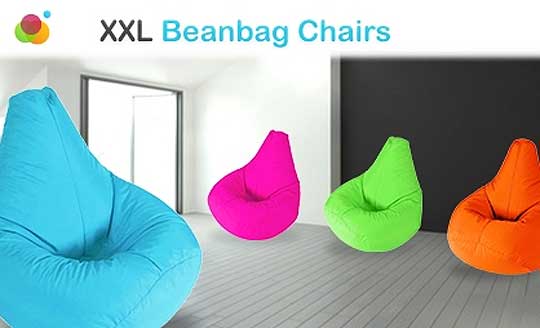 LyncMeUp are selling these funky looking XXL bean bag chairs for £39.99 - they're usual price is £99.99 and you have until 11.59pm Thursday night (8 November) to take advantage of the lower price.
Bean bags have come a long way since I was little; back when I was around eight year old, or so, bean bags were all the same size and they were round - mine had a red furry cover on it.
NOW bean bags come in an array of different shapes and sizes - these particular XXL bean bag chairs are suitable for use inside and outdoors (although quite why anyone would be sitting outside in the current weather conditions is beyond me!) and their dimensions are as follows:
Max Height 120cm
Max Width 100cm
Max Depth 100cm
Capacity 12 cu ft.
As for colours, you can choose from:
Olive Green
Aqua Blue
Black
Royal Blue
Lime Green
Burnt Orange
Hot Pink
Red; or
Yellow
The XXL bean bag covers are water and stain resistant, they have a fire retardant coating and feature a double zip which is concealed so it won't scratch wooden floors. You can buy more than one, colours subject to availability, delivery will cost an additional £14.99 and they ask you allow 14 days for delivery after the deal has closed.
Happy bean bagging!