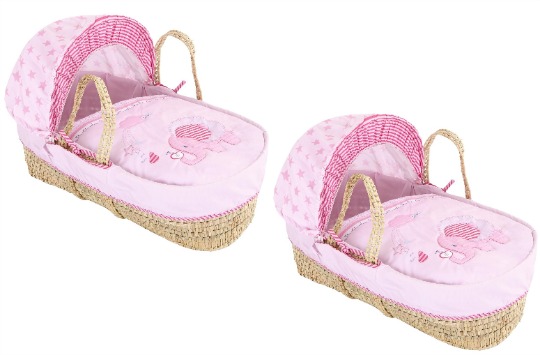 If you are pregnant then a massive Congratulations from us! You may be on the look out for affordable nursery items. If that is the case then this is the deal for you. Very have halved the price of the My Little World Wishes Moses Basket to just £20. That's a great price for a Moses Basket. There's a choice of blue or pink but unfortunately there's not a neutral coloured one for those of you that don't know the sex of your baby.
If we are honest, this Little World Wishes Moses Basket looks like many other on the market but this one is £20. Moses Baskets are pretty much all made the same.
The basket itself is constructed by woven palm. It has carry handles so it's easy to transport from room to room. Although, I don't think I'd do that with baby in it. You can never be too careful.
The exterior is nicely decorated and the look of it depends on what colour you opt for. You can remove and machine wash all of the linen. You get a mattress included too.
Save on the £3.95 postage charge and opt for Collect+ which means you can pick a local shop to pick your order up for FREE.