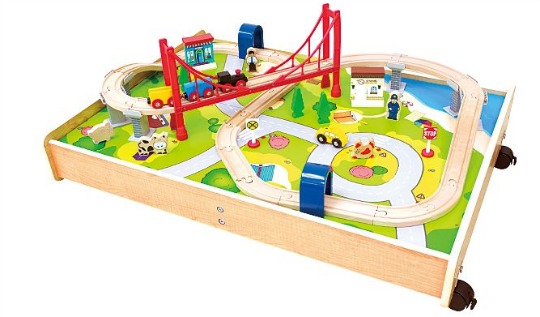 This is a pretty fabulous bargain from Asda Direct. It's a wooden train set complete with train table for £37.95, reduced from £70.
My children absolutely adored these wooden train sets when they were little, and could spend hours building elaborate train track set-ups and making up all sorts of adventures and rescue missions for their trains and passengers. It's the kind of toy that gets played with again and again, and is always a hit when friends come round to play, too.
I always wanted a train table so that we wouldn't be forced to choose between tripping over train track pieces strewn all over the floor, or making the kids pack away the pieces every day. But I've never come across a train table that was affordable, and I've certainly never seen one that comes with the train set. It's on wheels too, which is ideal for easy movement and storage.
I reckon this could make a little train fan very happy on Christmas morning.
With thanks to goonertillidie @HUKD.