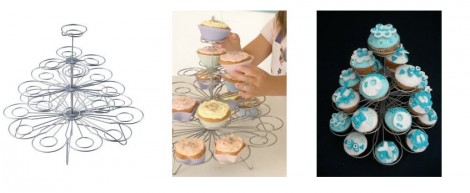 This lovely cupcake tree is just £9.25 at Amazon right now, a 54% saving on the usual RRP of £19.99
I've developed a real thing for cupcakes lately, and have become pretty good at using my gran's flop proof cake recipe to make perfect cupcakes in chocolate, vanilla and lemon. Decorating cupcakes is another pleasure – hand breaking with the squeezy thing, but it makes for such pretty cupcakes!
A usual problem for me, however, is having a plate large enough for all the cupcakes without damaging the flowers, hearts and so on on top. I made over 100 cupcakes for my sister's birthday party in December, and 30 for another party last week, so this is something I could definitely use.
This cupcake tree is a really pretty alternative for displaying cupcakes. It is 34cmx34cmx30cm in size, holds 23 cupcakes, and comes in a silver finish. If it's for someone else, it comes gift boxed already.
There are over 100 reviews of this product on Amazon, with an average 4.4 out of 5 rating, 70 of the customers giving it 5 stars. One of the reviewers said it adds a "wow" effect, and another said the presentation on the stand made them "look extra special".
I think it's really beautiful, myself, and am adding it to my own wish list!