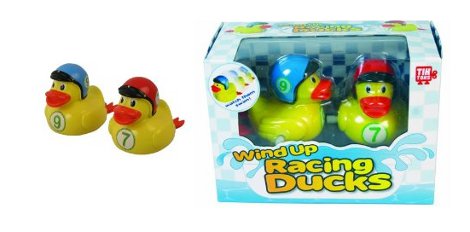 There's 23% off the Bluw Windup Racing Ducks at Amazon right now and they're selling at £6.16 for two ducks.
I used to be a massive fan of the TV show Friends, and in the final series, there's a scene where the friends race baby Emma's wind-up toys to decide who has to stay to look after her while Ross and Rachel are trying to salvage her first birthday cake.  I don't really know why but that scene cracks me so much, I have tears running down my face every time I see it. It has something to do with the white dog that does summersaults causing the highly competitive Monica to lose the race. My husband can end arguments by reminding me of that scene. Even now I'm giggling to myself.
Which is why I just had to write about these ducks. Just looking at them made me smile! There's a blue and a red team, and you wind them up and off they go. They're designed to power through the water and paddle their way to glory.
I'm not sure if this will provoke bath time fun or bath time fury, but either way, I'm sure I'd giggle every time I saw them.