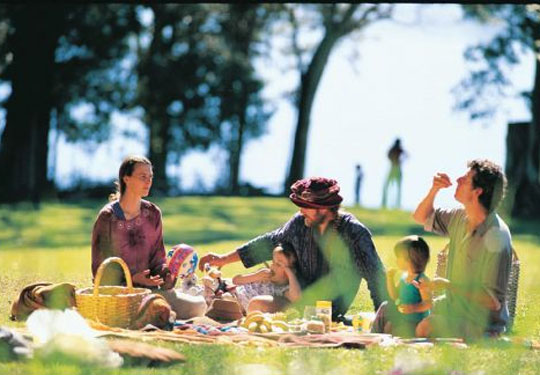 If you've ever wanted, or been looking for, a wicker picnic basket hamper that comes with proper plates, mugs, knives and forks then you'll already know how expensive they are.
If you scoot over to Home Bargains you'll be able to pick up an official AA Wicker Picnic Basket hamper, with all the trimmings, for £19.99 instead of £59.99.
For years, from when I was about 10, we used to go to various Prom concerts at the Royal Albert Hall in London.  The day consisted of going over to my grandparent's house, then all of us walking to the station, jumping on the train to London and mooching around various museums and exhibitions during the day.
Mid to late afternoons were spent having a picnic in Hyde Park, followed by ice cream.  Clear as day I can remember seeing a family with something similar to this wicker picnic basket hamper and they were drinking wine out of proper glasses too - I thought how much better that looked than my plastic chuck-away cup and promised myself that one day I'd have one.
I do have a wicker picnic basket hamper that has plates, cups, cutlery and glasses inside - it's a thing of beauty and I've never used it!  It's incredibly heavy and you really wouldn't want to be carrying it any distance - let alone on the train to London and back home again!
This  official AA Wicker Picnic Basket Hamper comes with the following bits and pieces (and if you buy one, please at least use it!):
4 x Knives
4 x Forks
4 x Tea spoons
4 x Plates
4 x Cups
1 x Salt/Pepper shaker
Thanks to Wadjet at HUKD